Contact Us
The Soup Kitchen Inc.
Office Phone: 269-925-8204.   Please leave a message if we don't answer!
Fax: 888-915-1238
233 Michigan Street
Benton Harbor, MI 49022 (We are at the back (east end) of the Salvation Army building.)
We accept donations every day from 9AM to 1:30 PM.
Mail: PO Box 8210 Benton Harbor, MI 49023
Email:  m@soupk.org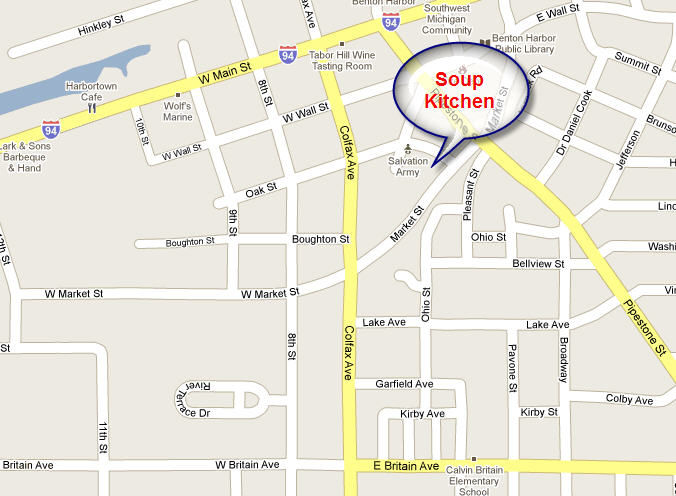 Our Wish List
     ITEMS we need:
Coffee and coffee creamer
disposable plastic or latex kitchen gloves
cleaning cloths — bar mops or microfiber
gloves
If you have food on hand, we can take it if it is not expired or opened. It is better that you do not buy food for us. We can buy food cheaper than you can, and we will buy much larger cans. Why? We have to open 18 15-oz cans to serve 100 people. We are happy to take game meats, but a licensed processor must process them.
We accept donations from 9 AM-1 PM. Call for other times.
Do not leave food outside our delivery door. Anything left outside must be discarded.
Our delivery door is by the driveway off Oak Street. Click here to go to the map on our contact page.
233 Michigan Street
Benton Harbor, MI 49022 (We are at the back (east end) of the Salvation Army building.)
Mail: PO Box 8210 Benton Harbor, MI 49023